2nd Annual Golf for Hospice Tournament
On September 8th, 2016 we held our second Annual Golf for Hospice Tournament at Lakeridge Links Golf Course. Course owner, Doug Summers, very generously donated the course again this year. 18 foursomes came out to support our cause and enjoyed a great day of golf, food, music, fun and friendship.
We are immensely grateful for the generosity of all our sponsors, participants and volunteers who contributed to making the event a resounding success, raising over $125,000 for our Capital Campaign.
Kevin Morgan welcomes guests to our 2nd Annual Golf for Hospice Tournament
Volunteers Sharon Simmonds, Janet Morgan and Sharon McDermott, looking pretty in purple!
DJ, Patrick Wasiuk keeps us rocking through lunch
. Volunteers Martha Casson & Nora Brookfield working the crowd
Cigar Sampling with Mochambo Cigars, courtesy of Steadfast Promotions
2015 Champions, The Jones Group, returns to defend their prize. Terry Jones, Jonathon Artsy, Mike Ferrari with Sandy Hawley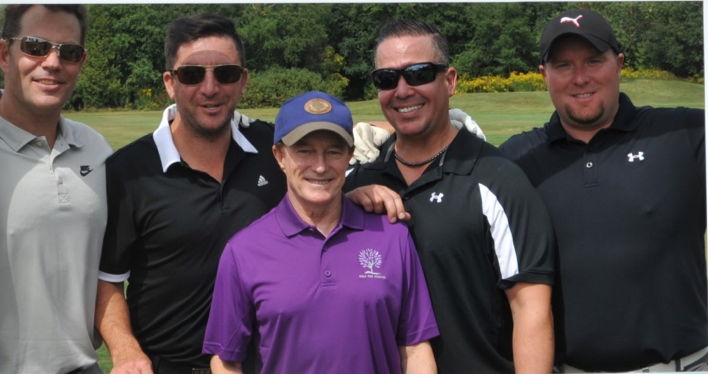 Dave Morrison, John Kanellis, Allen Marcan & Chris Ludlow with Sandy Hawley
Andrew Warren, David Rivett, Brian Stephen and Gord Anderson with Sandy Hawley
Nep Sidhu, Bhinder Sekhon, Surjit Mann and Dave Sidhu with Sandy Hawley
DJ Patryk Wasiak, Kim Kirkup, Barb Turner, Dave Turner & Tournament Organizer Terry Kirkup with Sandy Hawley
Jerry Arsenault, Scott Sawyer, Carl Schnalzer and Paul Bird with Sandy Hawley
Glen Gibson, Stephen Mangotich, Chris Marvin & David Peddie with Sandy Hawley
Phil Morgan, Sean Morgan, Paul Guimond & Bill Grant with Sandy Hawley
Dave Elliot, Doug Summers and Kevin Morgan sampling some stogies with Sandy Hawley
Patrick Morgan, Mark Telfer, Scott Sawyer & James Pelletier with Sandy Hawley
Tony Redmond, Dan Morrison, Chris Lantaigne & Rob Scoffield with Sandy Hawley
Ken Hewitt, Robert Turnbull, Liz Walters & Denis Masse with Sandy Hawley
Don Petit, John Druce, Bill McDermott & Jim Closs towering over Sandy Hawley
Steve Sampson, Jimmy Hazel, Jim Wright & Ian Watters with Sandy Hawley
AJ Manhas, Earl Weiner, Jeff Dessau & Gord Lee with Sandy Hawley
Kevin Brannon, Shawn Wright, Rocky Tersigni & Tom Brannon with Sandy Hawley
Steve Gray, Shawn Gravelle, Tim McGill & Chuck Mercier with Sandy Hawley
Glenn Healy and the Highland Creek Pipe Band pump out some amazing tunes
Glenn Healy, athletic, musical and eloquent too!
Sandy Hawley with some amusing tales from his horse racing days
Platinum Sponsor, Danny Mauti of Metro Compactor Services (third from left) with Terry Kirkup, Pierre St. Amand, Ian Calder, Ziya Erkan and Gail Guimond
2016 Tournament Champs, Todd Holinshead, Kevin Barker, Jeff Payne & Kellen Summers with Sandy Hawley